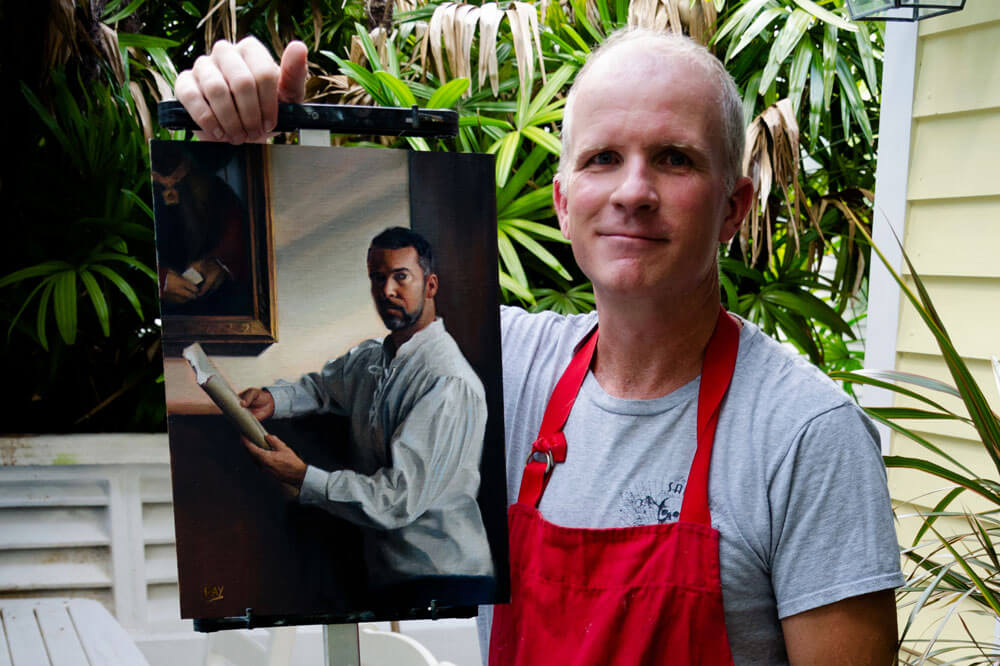 Canadian artist Alan Douglas Ray is a traditional oil painter with a passion for portraiture, figures, still life, and landscapes.  His paintings tend to depict quiet, private places with an air of mystery and intrigue.  He counts the Dutch Old Masters, especially Vermeer and Rembrandt, and the English Pre-Raphaelites as major influences.
"Message", pictured here, is typical of his style and tone. It is one in a series of small intimate paintings with the same solitary figure. In this one, the late afternoon sun was streaming into Ray's studio space, creating a momentary lighting effect that he was eager to take advantage of. The resulting composition reminds him of what Vermeer achieved in his most famous works: a purity of light and form, qualities that convey a serene, timeless sense of dignity. Sometimes the figures in Ray's paintings gaze directly at the viewer, inviting a response. But more often they're engaged in their own daily affairs. Here, the subject resents interruptions, so the message better be important. He is impatient so you better say what you have come to say.
Early Life and Influences
Ray was born in 1965 and raised in the university town of Waterloo, Ontario. After years of living abroad, he settled in Toronto, Canada's largest city, in 1996. His primary studio is there, but he also works in his remote country studio north of the city (Haliburton).
Ray feels grateful to have been raised in a household that encouraged arts and crafts. His father was an amateur photographer and watercolourist who once built a 15' fiberglass speedboat in the basement. His mother, a pianist and soprano, organized family trips to concert halls and the nearby Shakespeare and Shaw festivals. Landscapes painted by his grandmother hung on the walls. Furniture crafted by his grandfather was scattered throughout the house. 
He does not recall meeting a professional artist until he reached high school. His art teacher, a prominent watercolour artist who exhibited nationally, offered his students rigorous training in drawing and composition, sculpture, ceramics, mold making, stained glass, print making, colour theory, and art history— everything except the one area he loved most: painting.  So Ray taught himself how to paint on his own time in watercolour, a very challenging medium.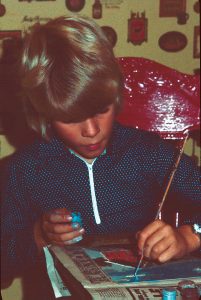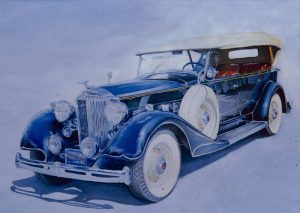 In those formative years, he knew that making art would always be a part of his life. Art was the only subject that could keep him working late at school and indoors on a sunny weekend. He had a growing portfolio to show for his efforts. When he was 19, he exhibited his watercolours of antique cars and started earning portrait commissions.
Yet, he couldn't envision making a career of art. His tastes are "old fashioned". He didn't see himself fitting in at any art college where conceptual or abstract art prevailed—and that seemed to be everywhere in those days. Earning a decent living and avoiding debt was a constant preoccupation for him too.
Ray chose instead to pursue degrees in political science and international relations.  In 1990, he won a prestigious Commonwealth Scholarship, which enabled him to go to London England to study. He eventually earned a PhD in War Studies on the subject of military intervention and peacekeeping. A stint working for a TV producer and screenwriter in the UK led him to the study of playwriting and screenwriting. By happenstance, he eventually found himself working in the fields of technical writing, animation, new media and software development back in Canada.
In 1998, Ray became a co-founder of a consulting firm that became Prospero Learning Solutions, a Canadian training design and development company specializing in custom e-learning courses. He served as its Chief Technology Officer until the business was acquired by a global training giant in 2013.
Throughout this time, Ray never neglected his creative side, dabbling in watercolours now and then.
One day in 2003, a Toronto friend introduced him to a private art academy that had been founded by John Michael Angel (better known as the founder of the Angel Academy of Art in Florence and student of Italian master Pietro Annigoni). Now called the Academy of Realist Art (ARA), the school offers a 19th century French Academy curriculum with a foundation in Old Master drawing and painting techniques. The lineage of its instructors can be traced back directly to Jacques Louis David and the Académie des Beaux-Arts in Paris. Many of its graduates are internationally-known professionals.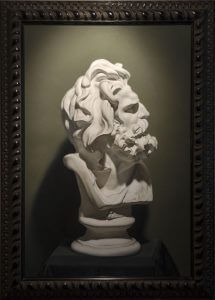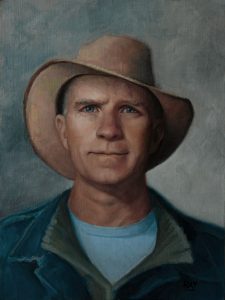 With his passion for realism, Ray realized that the ARA was the very place he had been longing for. He enrolled part-time, working under the guidance of artists Fernando Freitas, Juan Martinez, Ryan Gauvin, and, for a short time, David Gluck and Matthew Mancini. Ray completed the curriculum and graduated in September 2013.
In June 2015, he finally realized his dream of being able to paint full-time as a professional.
He is now a member of the Federation of Canadian Artists (AFCA signature status) and the founding president of its Toronto chapter (FCA Toronto). He is an elected member of the Society of Canadian Artists (SCA) as well as the Oil Painters of America (OPA), the International Guild of Realism (IGOR),  and the National Oil and Acrylic Painters' Society (NOAPS). 
Ray exhibits widely in his home province of Ontario, across Canada and the US. His work can be found in private collections there and in British Columbia, California, New York, North Carolina, Florida, and London.
Ray has chosen to paint in a style called classical realism, which taps into the classical, realist, and impressionist traditions in art. One of its core principles—that good draftsmanship is the foundation of a good painting—resonates strongly with him. He also strives to depict nature as truthfully as he can by directly observing the subject's form, gesture and colour and the ways light and shadow alter our perceptions of that subject.
For Ray, careful observation is the key to approaching his figures, still-life works, and landscapes. In his words, "Painting a still life forces me to slow down and reflect on the essence of an object and the world I've created for it. I'm thinking about much more than what makes a pumpkin a pumpkin and not an apple or a pine cone. I study the surrounding light and the shadows cast by nearby objects. I think about their personalities and relationships like a playwright might imagine actors playing characters on a stage."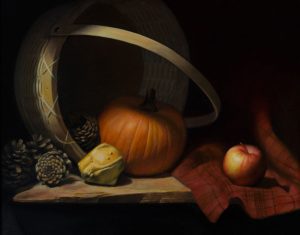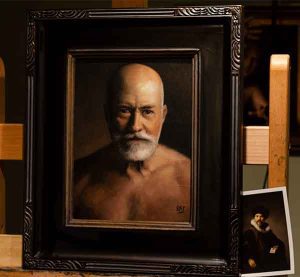 With his portraits and figure paintings, Ray seeks out aspects of character that he can capture, preserve, and later treasure when viewing the finished work. He reflects on this often with respect to family members and friends he's painted who are no longer with us.  In his words: "I search for character in the eyes, in the shape of the mouth, and in the pose itself. Whenever I can, I employ classical lighting effects, clothing and scenery to further bring out the essence or truth of the character I see."